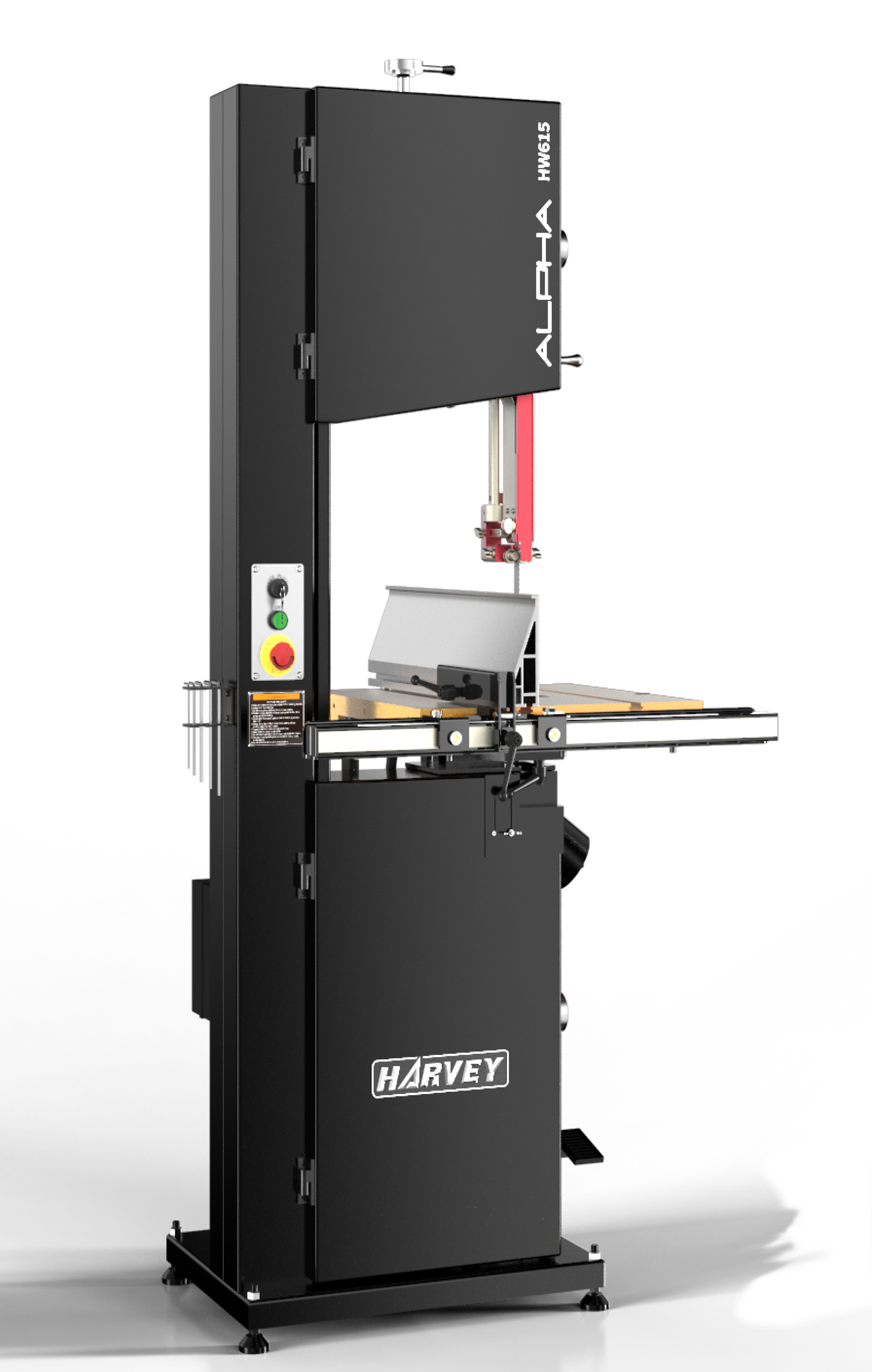 HW615 15" Industrial Bandsaw
Like many traditional machines, band saws have not changed much over the decades. Harvey decided to redesign band saws with new ideas to raise the standards for band saws. The ALPHA Series HW615 Bandsaw is a direct result of these ideas. The basic concept behind the HW615 is to make a truly heavy-duty, powerful and precise bandsaw which will enable you to do the job with ease and pleasure.

The HW615 is built with a 3 HP, 220v motor to ensure enough power to undertake any job that a 15" bandsaw can handle; solid, reinforced structural steel frame; premium, heavy-duty cast iron flywheels; unique tool-less upper and lower blade guides; substantial 20"x 20" work table with TiN Coating for rust prevention; extra-large precision high low aluminum fence with solid T-square gliding/locking structure; worm gear system for smooth worktable tilt; dual trunnions for stability; and a fully enclosed blade guard. All of these add to the precision, smoothness and solid performance and make HW615 a ultimate bandsaw for professional woodworkers.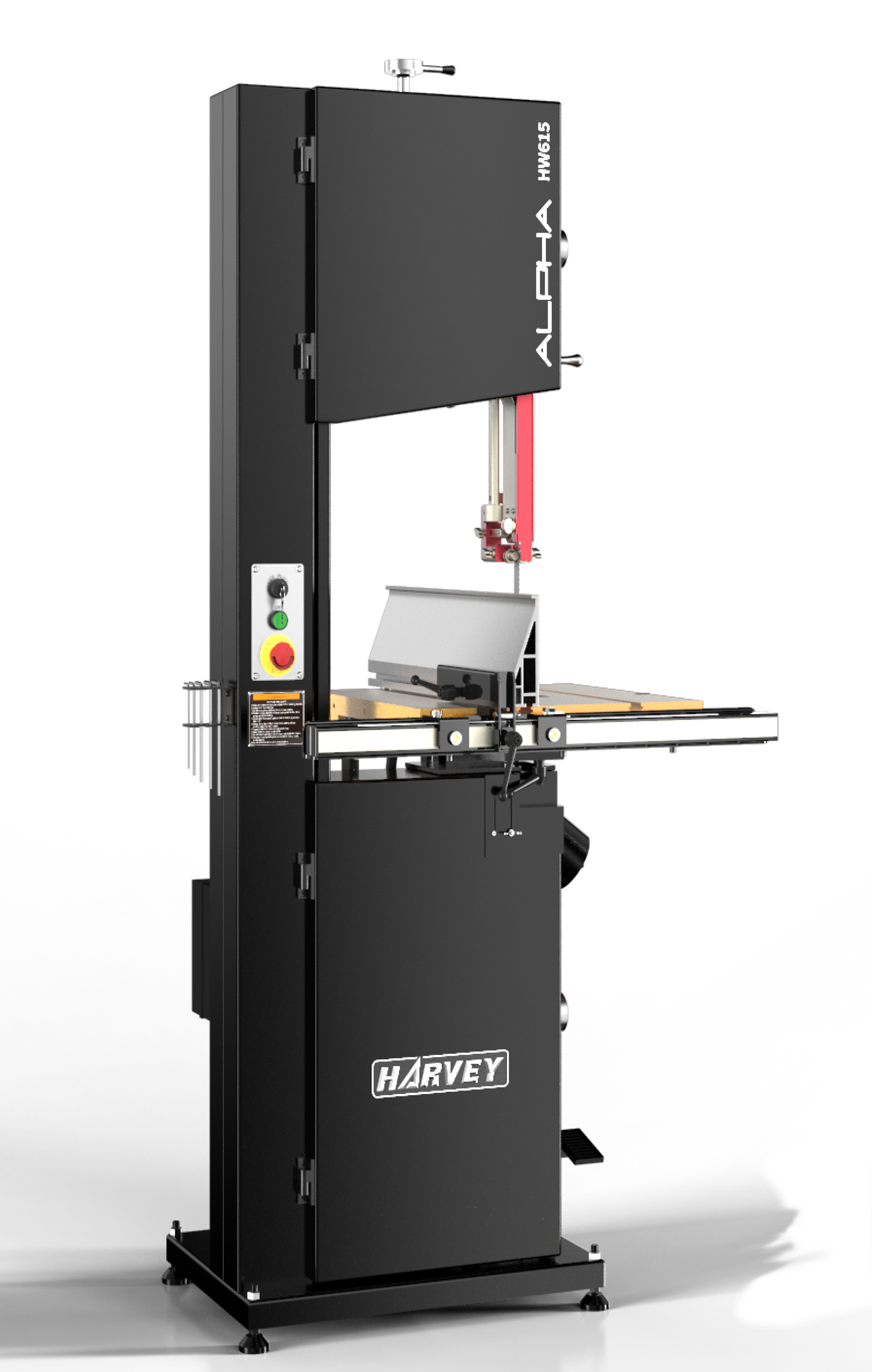 HW615 15" Industrial Bandsaw
Dynamically balanced cast iron flywheels for smooth operation and extra torque when running
3HP powerful TEFC single phase motor (220V)
Golden TiN coated worktable for rust prevention and low friction
Unique tool-less upper and lower blade guides
Extra sized and robust steel frame

Quick release tensioning levers

Worm gear worktable tilting
Foot brake with micro switch

Full enclosure protection for blade

Micro-switches on the top and bottom doors for extra safety
Dual trunnion system for stable support of worktable
Extra large aluminum alloy precision high/low fence
Golden TiN coated worktable
Worktable: the substantial 20" x 20" (508x508mm) cast iron work table is Titanium Nitride (TiN) coated providing a durable, rust resistant finish which has an excellent appearance.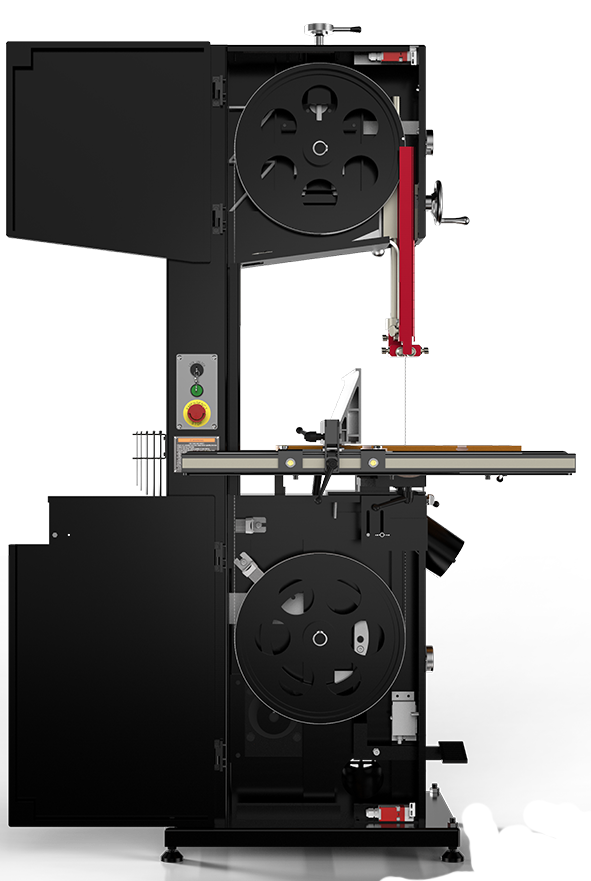 Heavy Duty Cast Iron Flywheels and Reinforced Structural Steel Frame
Dynamically balanced cast iron flywheels provide smooth operation, extra torque and minimum noise when running.
The reinforced solid steel frame insures the stability needed for extraordinary performance.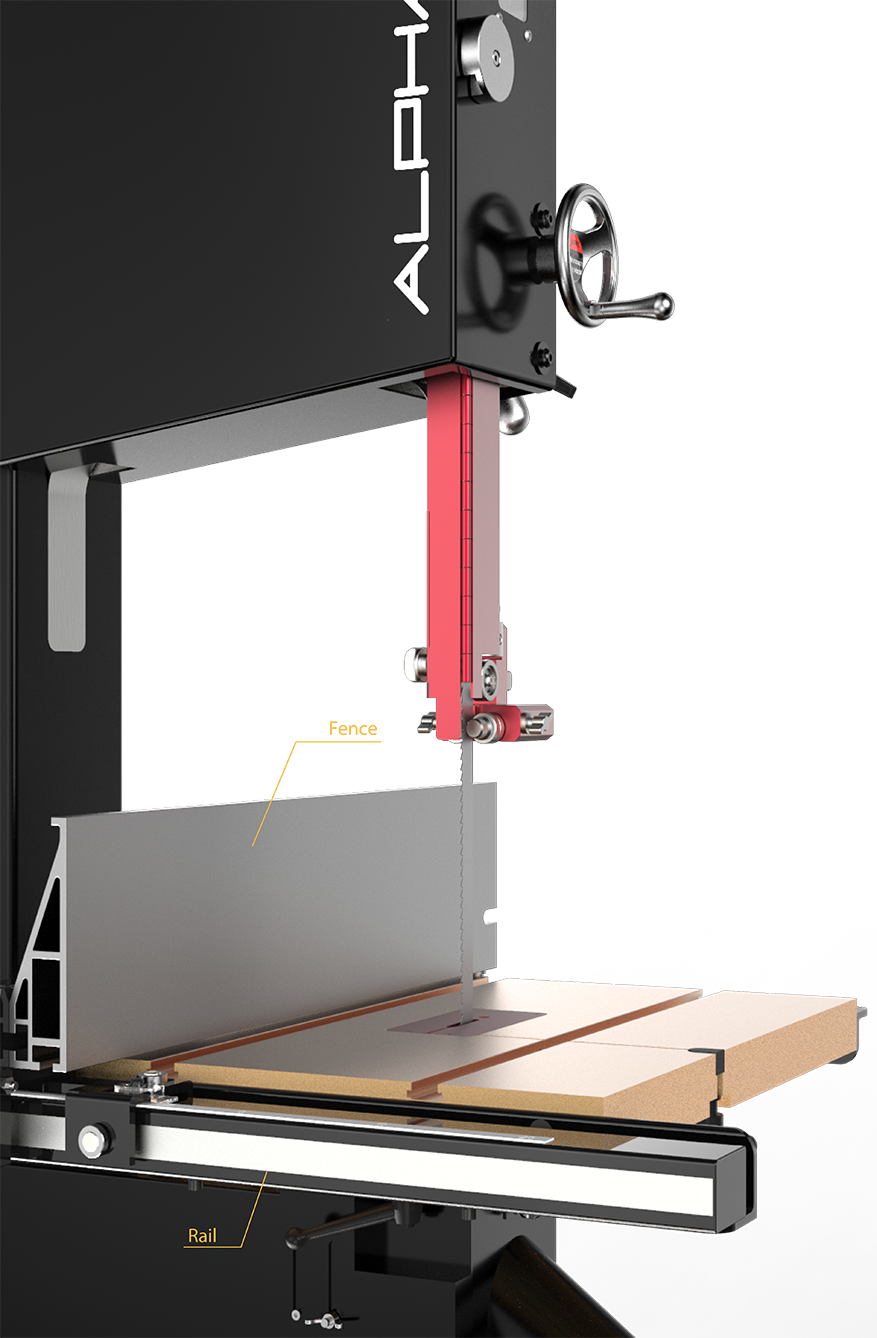 Extra large Precision Hi-Low Fence with solid T-square Structure
Fence: the fence has been upgraded to a extra-large precision Hi-Low fence of 6", which is made of high strength extruded aluminum. The position of the fence can be changed to accommodate the size of the work piece. In the vertical position, the fence provides stability for re-sawing applications.
Rail: the rail has been upgraded to a structural steel tube providing additional strength and rigidity and allowing for more precise settings. The solid T-square structure is easily adjustable and allows the fence to slide smoothly.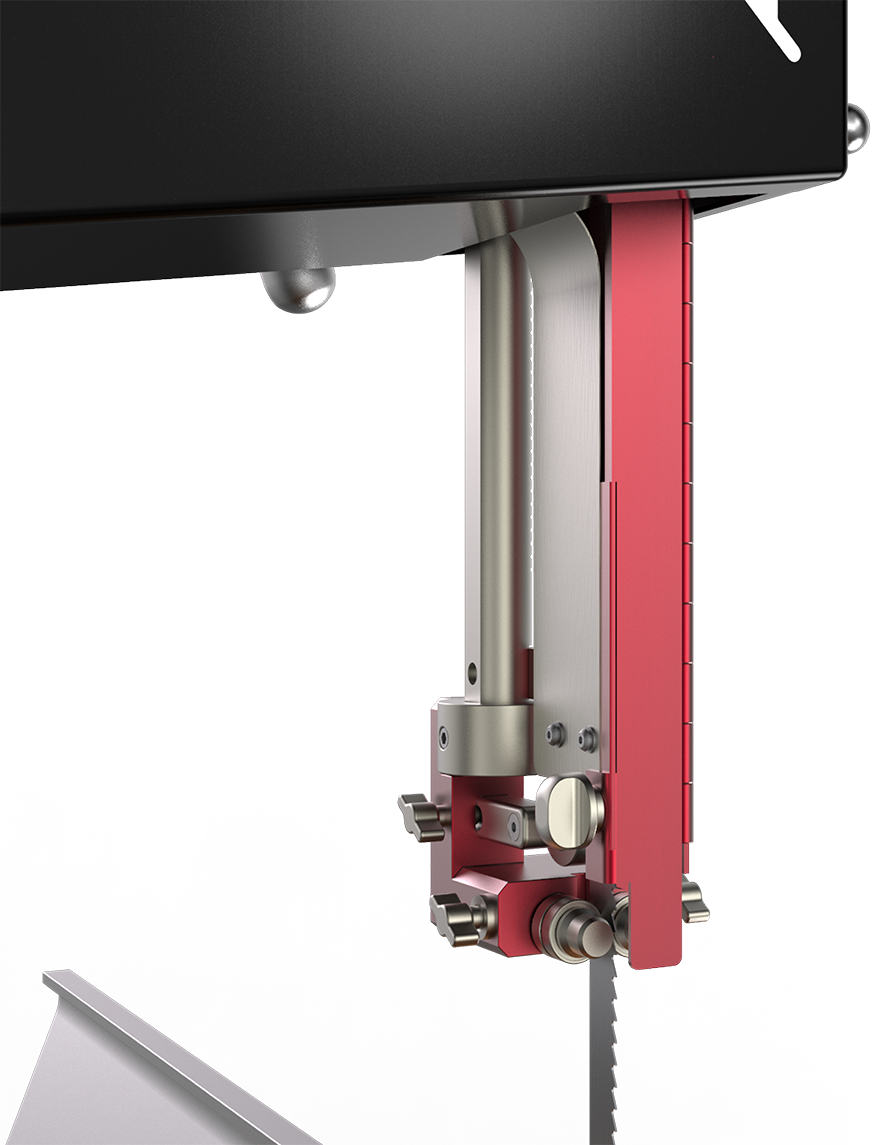 Full Enclosure Protection for Blade
Guide post: upgraded to all-steel construction, the guide post provides full coverage preventing accidental contact with the blade.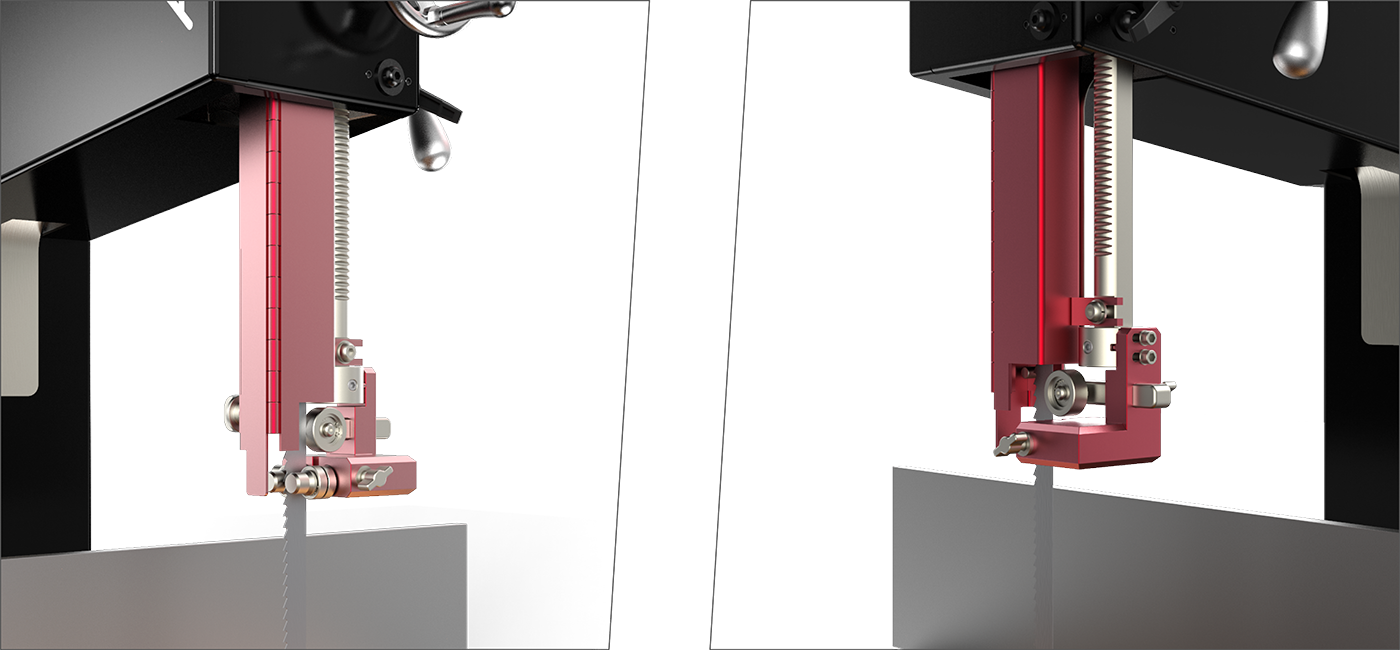 Ball Bearing Blade Guides feature Tool-less Adjustment
Ball Bearing Blade Guide: this patented new system incorporates a ball bearing on each side and the back of the blade, which improves the wear resistance and work life of the machine. The tool-less adjustment and lock knobs are thoughtfully designed to provide easy access and use. Both top and bottom guide sets utilize this system.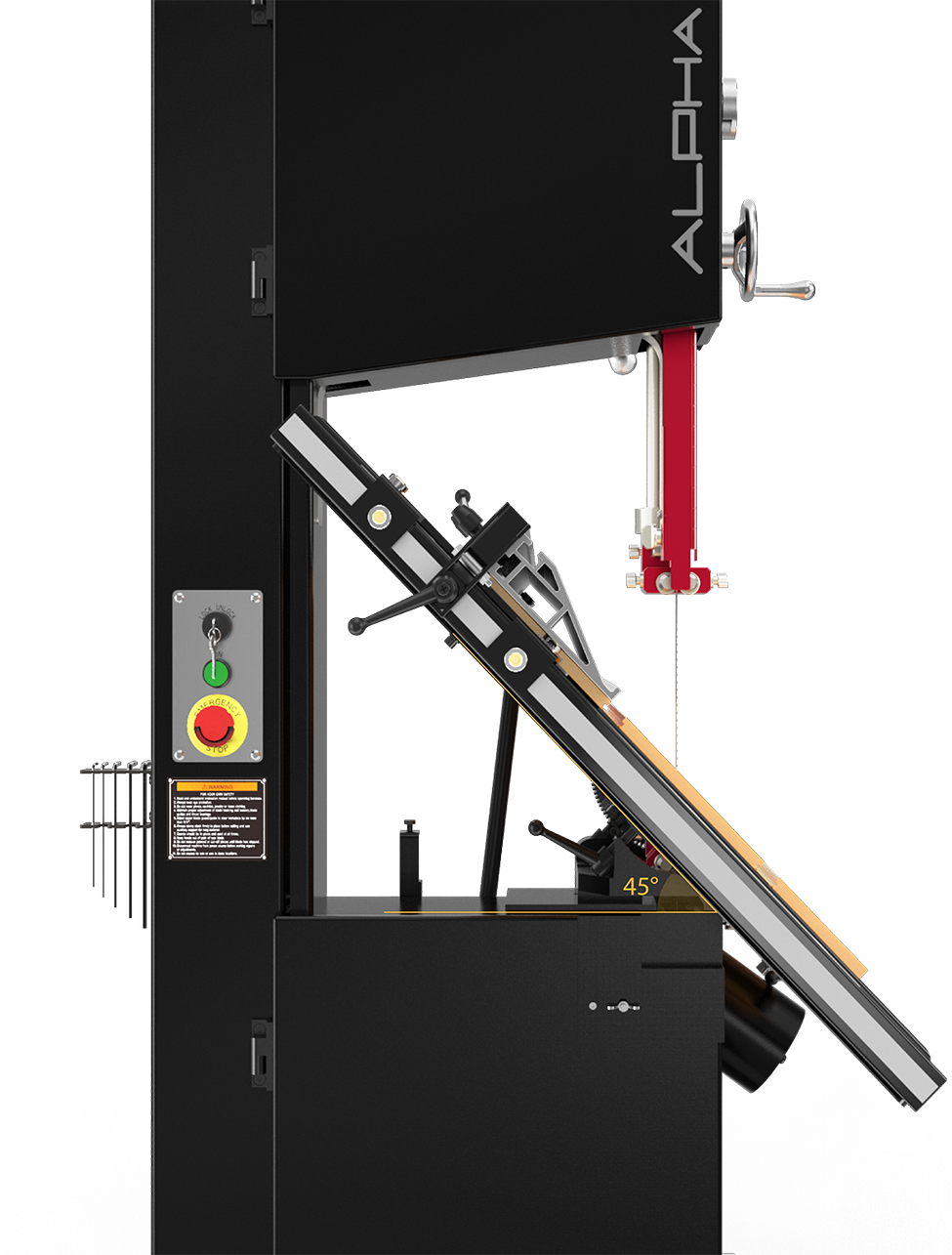 Cast Iron Worm Gear Tilting System
Tilting Table: a worm-gear dual trunnion system offering precise adjustment from 45 degrees to -15 degrees using a heavy duty hand wheel. It is easy to operate and the gas piston assists the user in making micro adjustments to the large table.

Both Doors have Safety Switches
Safety Shut Offs for Both Doors: the upper and lower cabinet doors are equipped with safety switches which automatically shut off the machine when a door is opened.
Foot Brake:
immediately stops the saw blade when needed.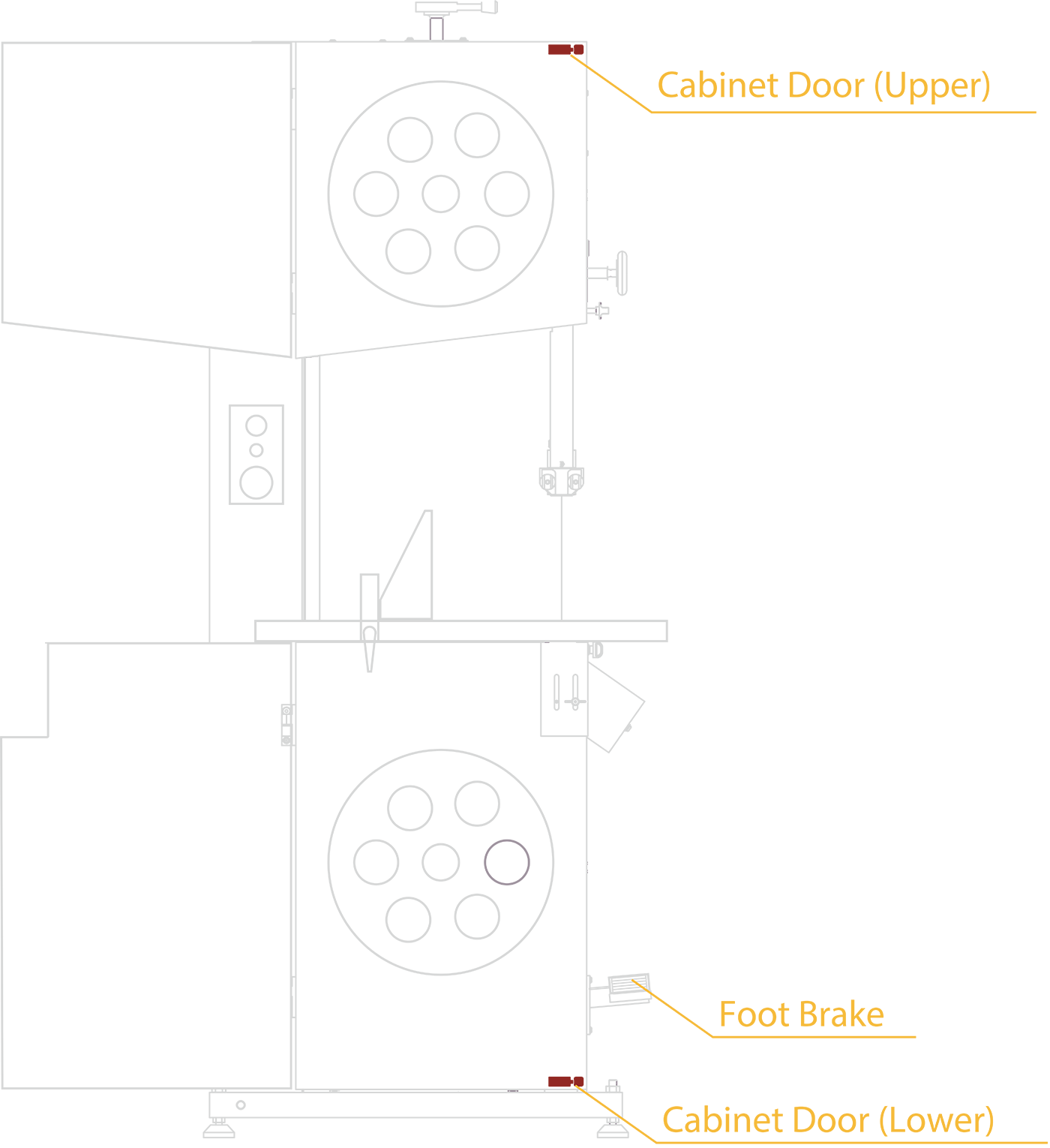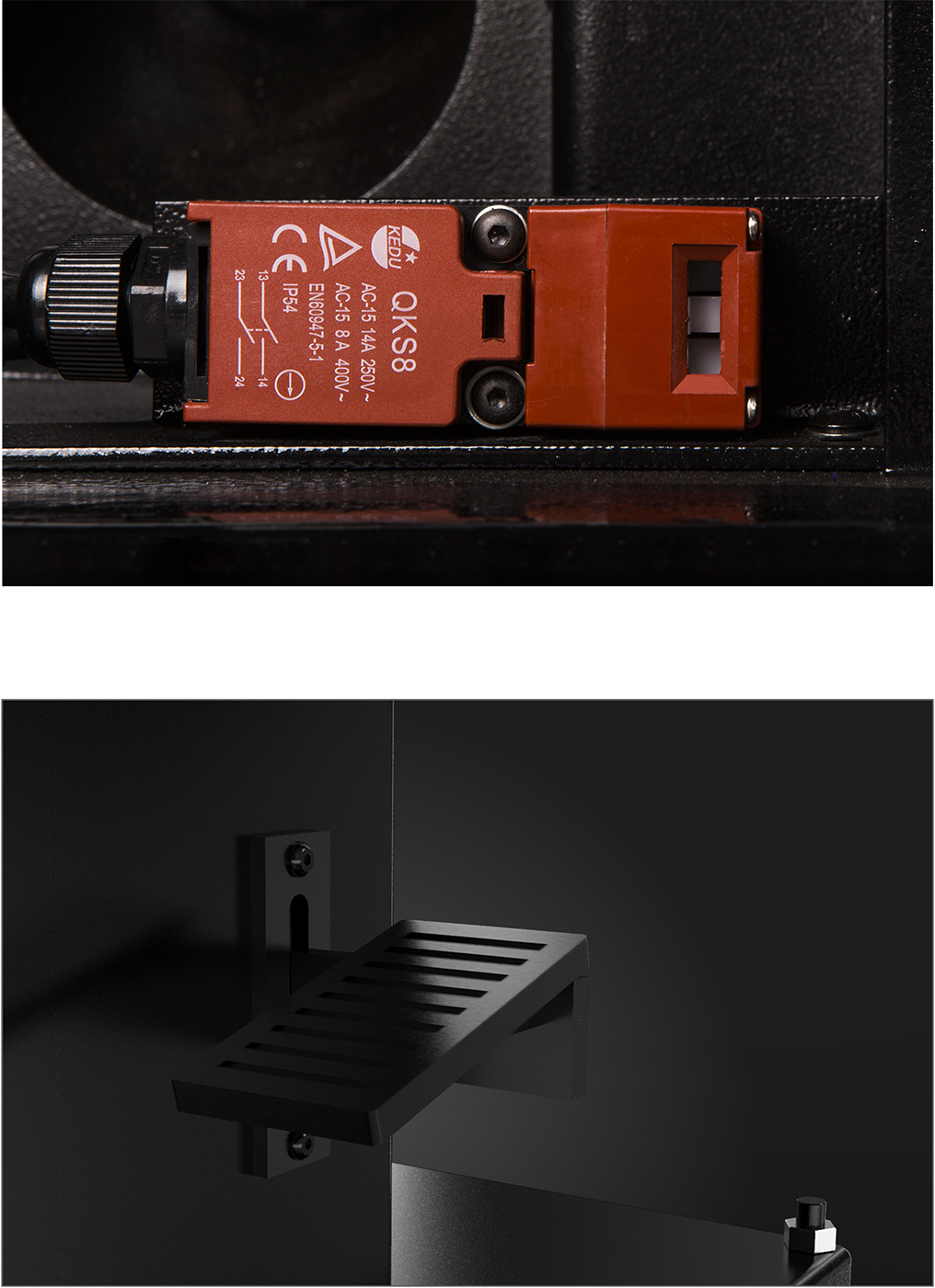 Switch: The magnetic switch is lockable and can also prevent overheating of the motor.
Motor:
the 3 HP TEFC, industrial grade motor supplies robust power needed for the large capacities of this band saw.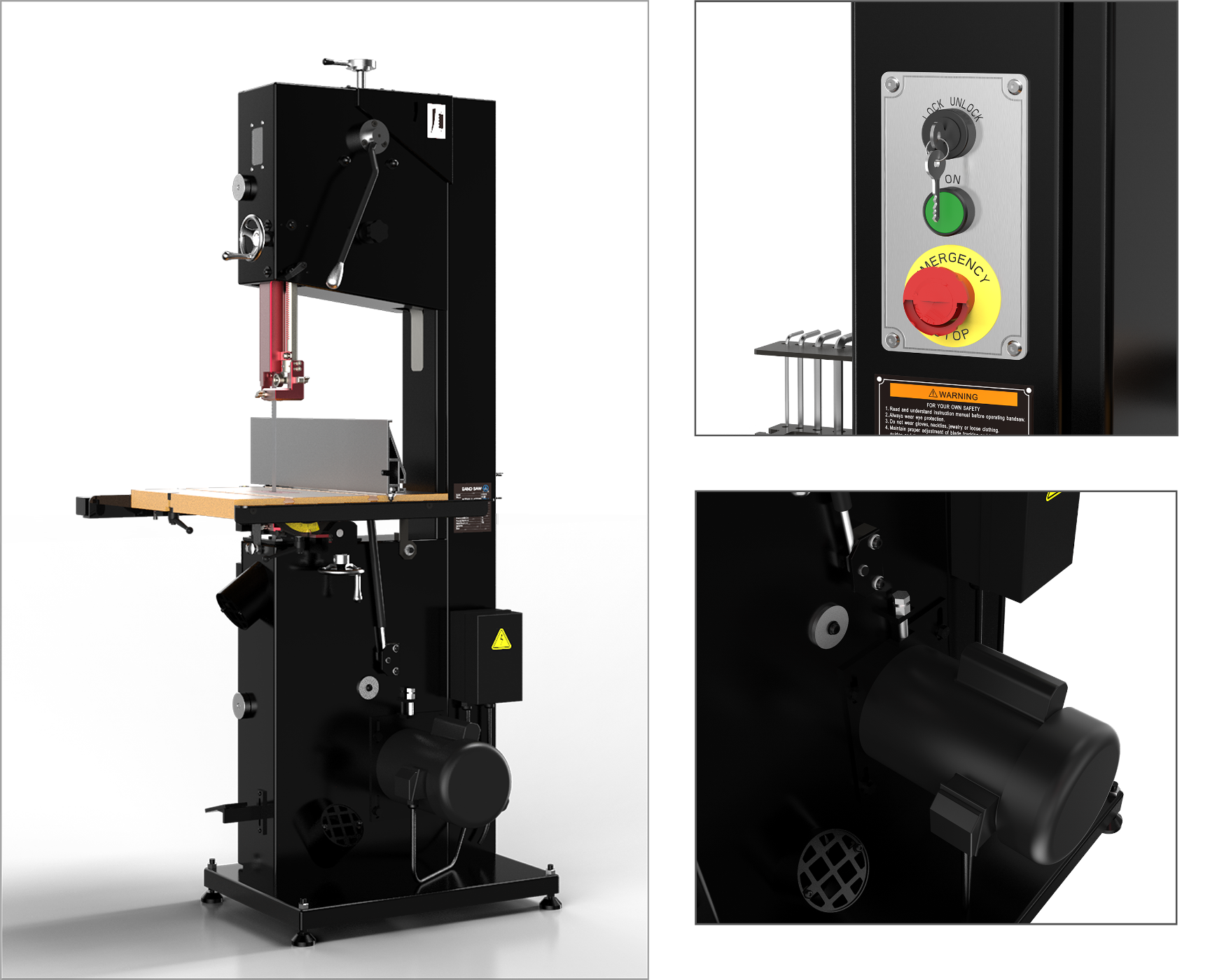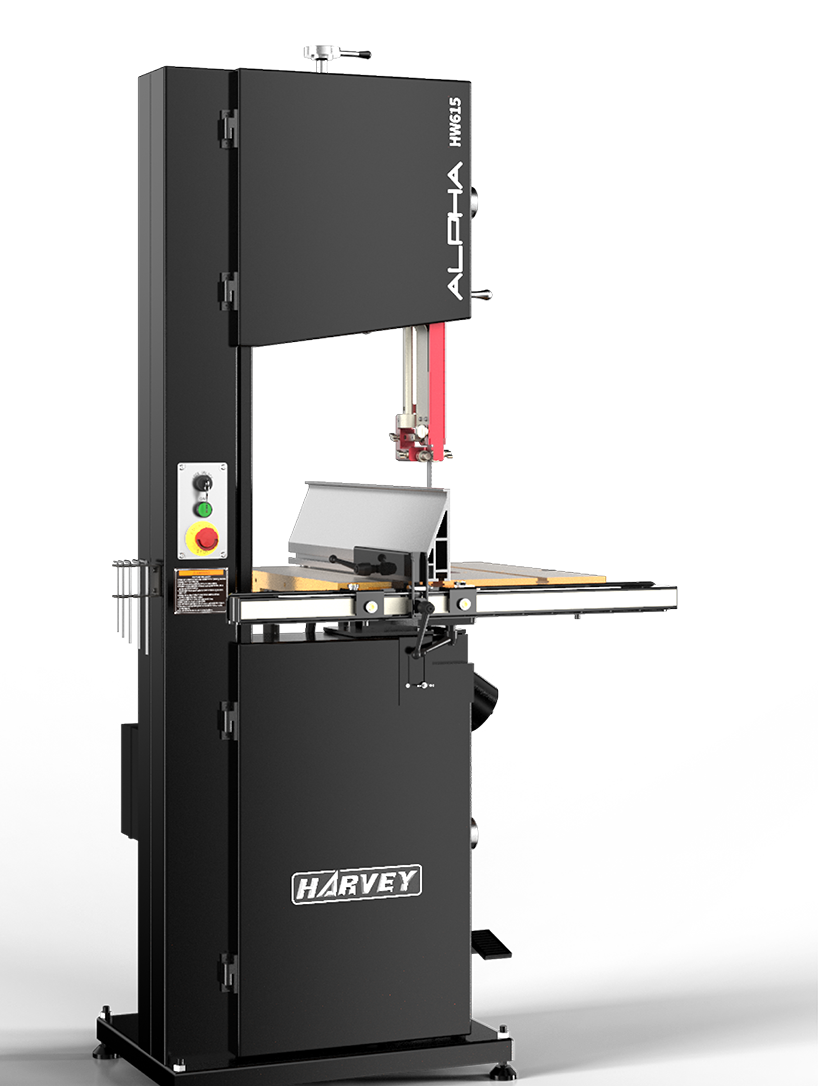 Dust Brush: the dust brushes in the lower cabinet remove the dust and chips to ensure consistent blade speeds and reduce slippage.
Tool Rack:
the tool rack conveniently placed on the frame makes the most commonly used tools readily available.
Dust Port:
the HW615 upgraded version is equipped with two 4" (100 mm) dust ports. A solid cover is included so that one port can be closed for higher efficiency at the second port.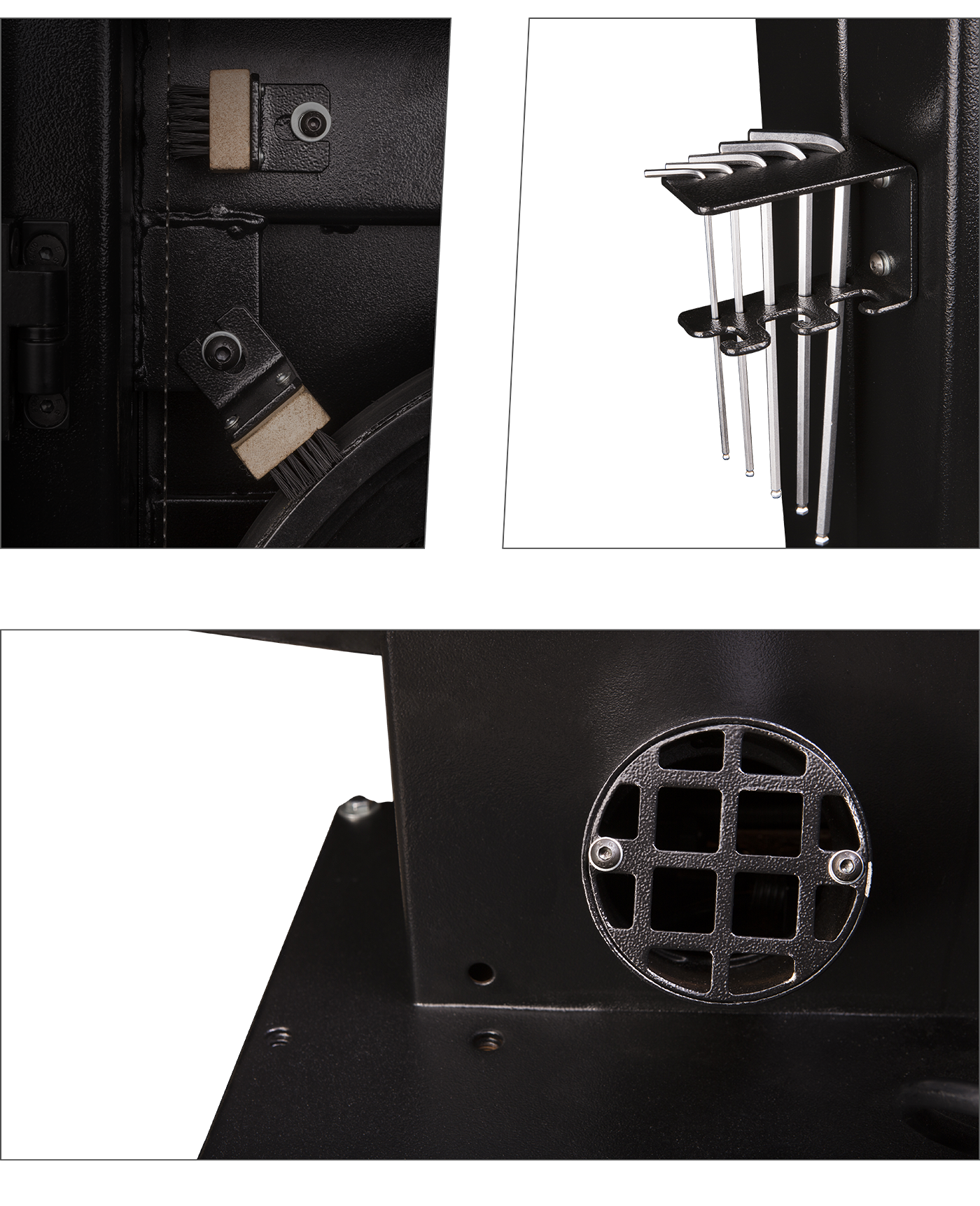 Tension Label: a laser-engraved label has been added to the frame.
Handwheel Handle:
upgraded with Chromium for its hardness, resistance to corrosion and its aesthetics. The handwheel includes a handle for ease of operation.
Door Locking Knob:
upgraded to a knurled knob for its beauty and to ensure an anti-slip grip.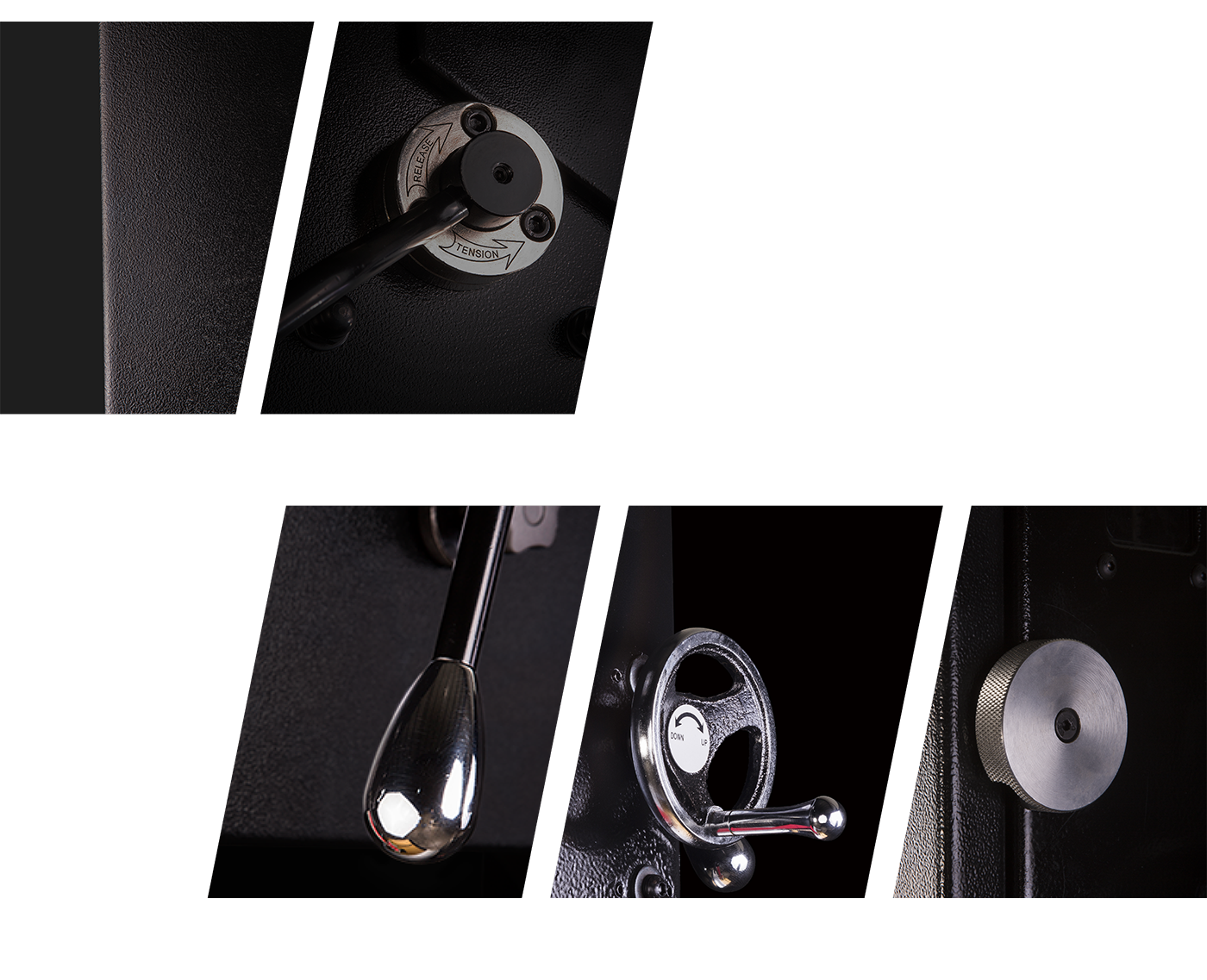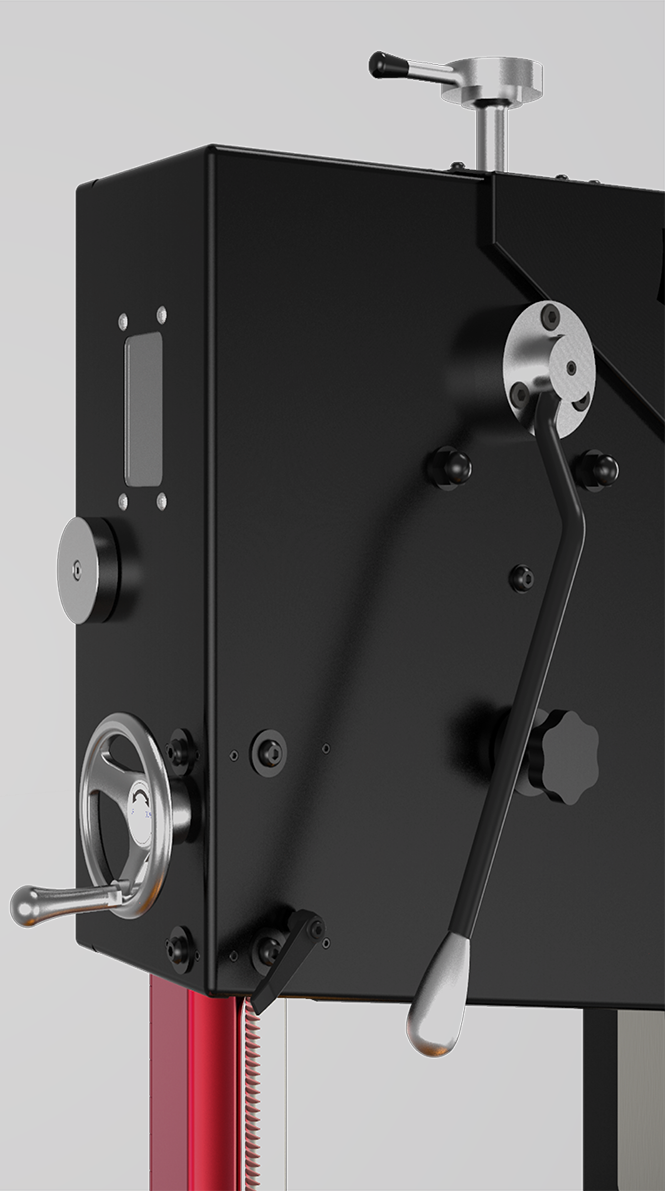 Switch: The magnetic switch is lockable and can also prevent overheating of the motor.
Motor:
the 3 HP TEFC, industrial grade motor supplies robust power needed for the large capacities of this band saw.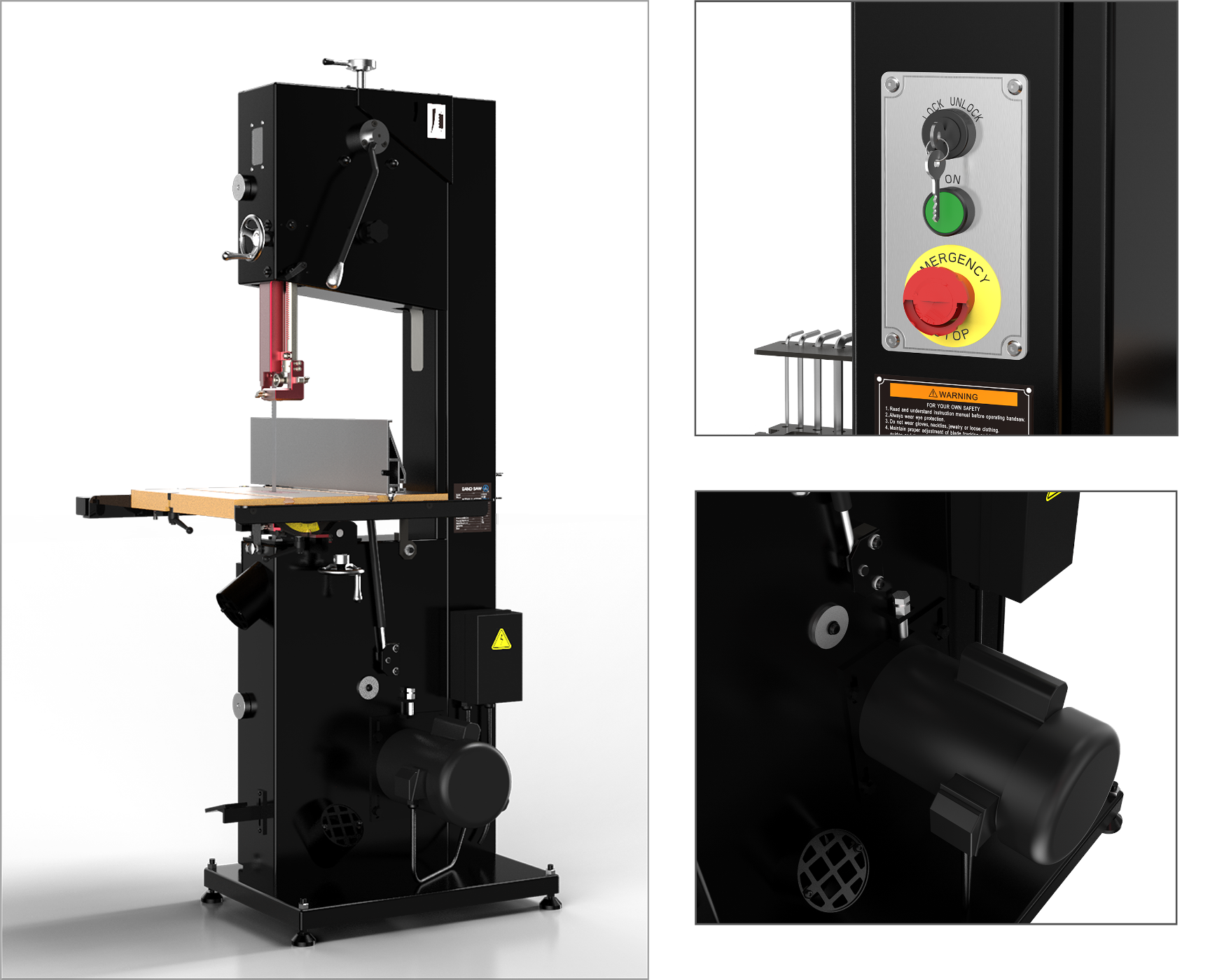 Please contact our sales manager (sales@harveymachinery.com) to check the voltage/specification/certificate options suitable for your country.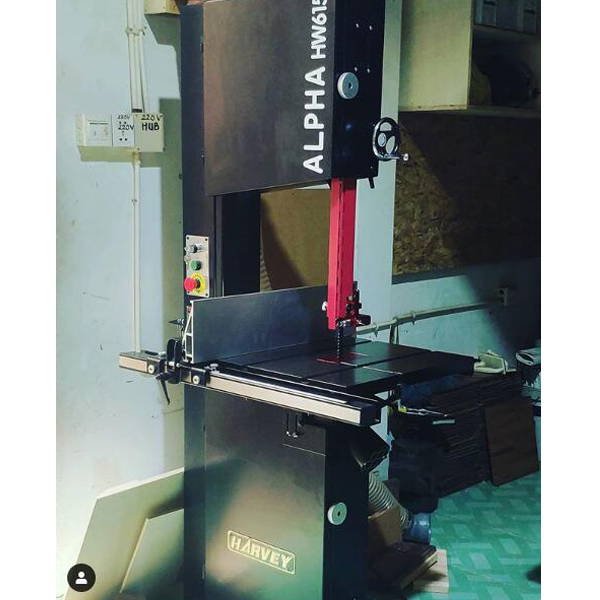 New babe just arrived from Nanjing, China.
Harvey Alpha HW615 or so-called Axminter HW615 for the Europe market.
3HP, 220VAC, dead heavy 250kg.
I think I wont call him babe.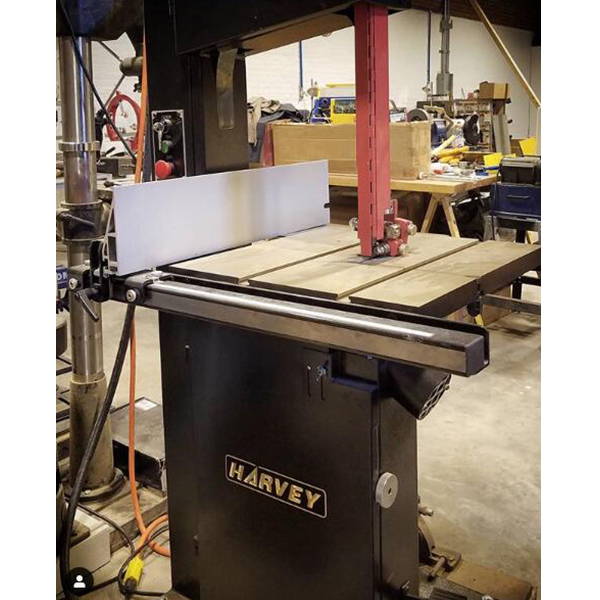 I'm about to run this @harveywoodworking #champion #bandsaw through its paces tomorrow - I love this saw!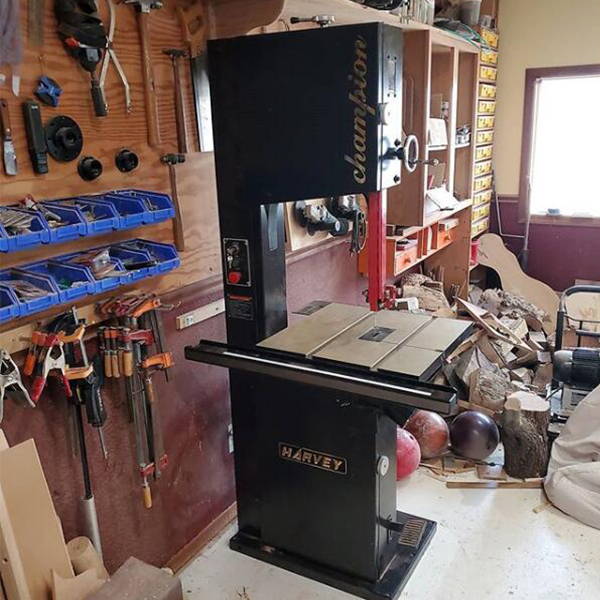 Phase 11 of the shop remodel. I got the @harveywoodworking bandsaw moved in from the trailer. I know I know I'll get that pile of wood cleaned up behind it soon.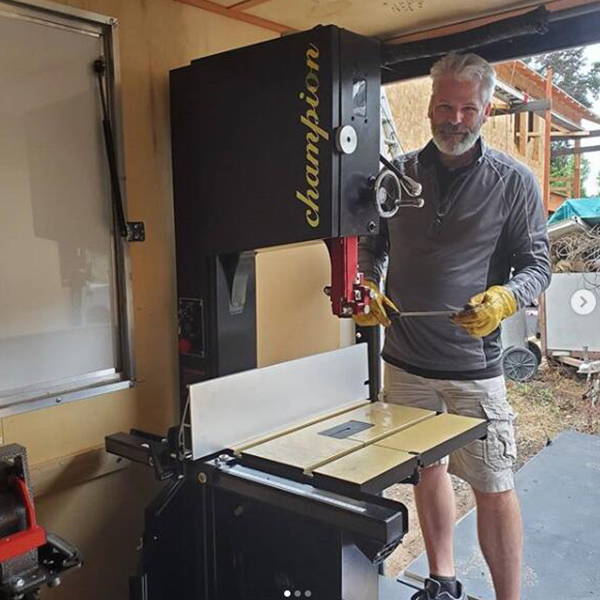 Getting the @harveywoodworking band saw setup in the mobile shop.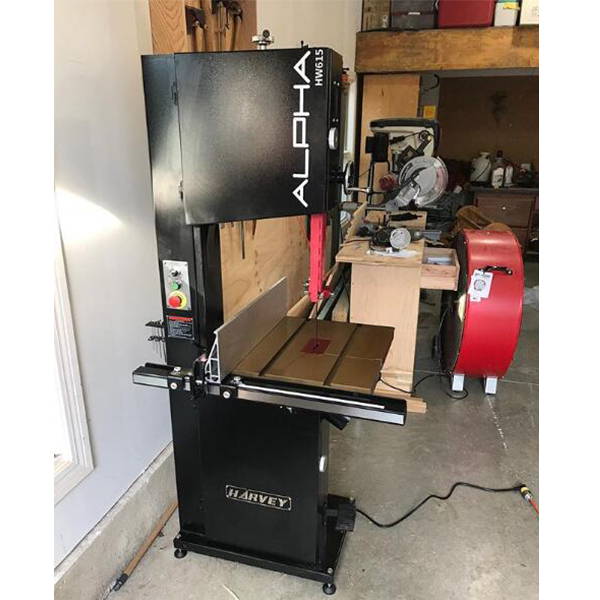 Welcome to the newest addition! @harveywoodworking @bridge_city_tool_works Alpha bandsaw! Crazy simple to assemble, is stinking quiet when it's on, and the blade runs true. The foot brake is a welcome feature too.